It's What We Leave Out That Makes All The Difference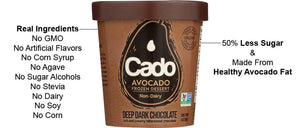 See What Customers Are Saying!
Just wanted to drop a note and say I LOVE YOUR PRODUCTS!! I tried your Avocado Ice Cream for the first time a little while ago and absolutely loved it! Your dairy free ice cream is now a freezer staple in my household and I have been enjoying trying all of the different flavors. Every flavor is so rich and creamy- I don't know what your secret it but you have me hooked! I will forever be a Cado fan.

Claire
Had to tell you that I just discovered your Dark Chocolate at a local discount grocery store and ate the whole pint in two days!  Something I have never done... I am 71 years old and have traveled the world extensively... and this ice cream (dairy and NON dairy)  is far and away the BEST I have ever had... including all the gelato in Italy!!  I just had to thank you for making such an incredible product... and wish you mega-success!

Lorraine
Your ice cream is the only I've eaten where my tummy doesn't not only not hurt, I even feel kind of nutrient energized by eating it! Your ice cream is such a Joy! Thank you for bringing well-being, beauty and joy to the world through your ice cream.

Shivonne
I am reaching out to express my gratitude as a happy customer :) I have been a fan of your avocado ice cream since I discovered it at my local Whole Foods in 2019. I am so grateful to have a delicious plant-based ice cream brand with minimal ingredients, and I appreciate how innovative your ice cream is compared to other plant-based ice cream brands.

Megan
I just wanted to say I absolutely love the Java chip ice cream (I haven't been able to try any other flavors); I am SO glad I discovered it while traveling recently. I have celiac disease and a number of intolerances, so finding products that fit the bill that are also really good isn't common. I'm doubly thrilled to have found an ice cream I really like that doesnt have any (or very little) saturated fat, as most non-dairy products do. *PLEASE don't change anything about it!! other than perhaps make it more widely available :) Thank you

Margaret
love love love it!! Just wanted to say I bought your ice cream in a Publix store.   I am 79 and still working in healthcare. Honestly I have told everyone how good it is and I can truly say it is the best!!!!  Thank you for making such a great ice cream and don't stop  LOL!!!!

Nancy
Minimum order quantity is 4 items. You can select any variety of flavors you like!